Do you want to get more traffic to your affiliate marketing offers or want to build your targeted email list that to generate more sales?
Generating leads is a time taking process which involves converting a stranger to a visitor, a visitor to lead through an opt in-form/landing page, a lead to customer and a customer to a promoter.
It has been observed in the studies that only 15% of marketers can effectively generate leads for their business and out of which 70% leads fail due to lead nurturing issues.
The most difficult phase of the lead generation journey is from stranger to a lead (potential buyer).
What if you directly start your journey from a potential lead? Your time, money and effort gets reduced by more than 50%, isn't it? This is why a Solo ad concept has been introduced into the picture.
What is a Solo ad?
A solo ad is nothing but an email advertisement or a sponsored email where the seller who has a list of email subscribers blast an email campaign for the buyer who wants to promote his offer or simply get visitors in exchange for a fee.
Suppose you want to promote your course by getting targeted visitors on your landing page. Then you will buy a solo ad from a seller of your choice.
The seller will shoot an email on your behalf to his email subscribers having your course/landing page link, or any call to action of your choice.
If you are looking to grow your email list and you don't have time and money to build your email list fast enough, a solo ad can help you do it quickly.
Udimi is one such Solo ad platform which is being used by two million people to get high-quality visitors.
What Is Udimi?
Udimi is one such solo ad marketplace which brings influencers or list email owners and buyers/online marketers on a single platform.
Getting registered on Udimi took me less than a minute. You just need to enter your email and set a password for your account and you are doneYou can start exploring the best solo ad providers by clicking on the "Find Sellers" option.
I liked the filter options given by Udimi for finding the best-sellers according to your niche.
You can filter your search results based on:
Price
Percentage of "Got sales" rating
Niche
Customer Ratings
Traffic Source Location
ID & Email List Verification and a few other
Isn't that great? You should take advantage of Udimi filters to pick the best sellers from the platform.
Udimi is not just a free platform but a freemium marketplace, i.e. it has both free and premium versions. In the free plan, there is no membership fee, and you only have to pay the seller's fee + $3 (Udimi's fee) when you are placing an order.
For the Prime plan, the membership starts from $29.95 per month. Apart from the monthly, there are three other plans including the 3 months plan (for $85.36), 6 months plan (for $161.73) and 12 months plan (for $287.52).Here is a list of extra features that you get on upgrading your account to Prime (Premium version):
Advanced Filter Options: You get advanced filter options on top of base filters with the premium version, which can remove non-targeted visits and save more money.
Profile Badge: With the premium version, you get a crown icon next to your name, which gives you more credibility.
Optin Tracking Feature: With this feature, you can add unlimited sites you need and track all traffic.
More Affiliate Earnings: Udimi has its affiliate program where you can earn money. For free accounts, Udimi pays 15% for each order referred through you, but this amount goes up to 25% if you are a Premium user.
Access to Profile View Stats: With the premium version, you can view the visitors who visited your profile. It can help you convert more visitors into buyers and increase your sales.
If you have your email list and want to register on Udimi as a seller, it is a great platform to earn easy money. For sellers, it is essential to get the verified status as it will give you more customers.
For verifying identity, Udimi charges a non-refundable $5.33 fee and would require you to submit one of the documents: ID card, passport, driving license.
Are Udimi Solo Ads Worth the Risk?
Though solo ads are worth the investment involved and cheaper than other paid traffic sources such as Google Ads, there is a downside of solo ads too.
I have gone through some experiences where people have claimed that a few sellers have built their email list through black hat methods.
Some even send fake bot clicks which might harm your website statistics and also hurt your email deliverability rates.Thankfully, Udimi have various policies and precautionary methods to protect buyers from fake sellers.
I like this feature of Udimi that the rating/review given by a buyer, be it positive or negative, is non-deletable under any circumstances by the seller.
It protects the genuineness of the buyer experience and is helpful for other buyers on the platform. Though there are statistics related to upvotes, sales rating, still you have to choose sellers carefully.
The only way to find a genuine seller who can give you more sales/subscribers is by trying one or two who fits your budget, niche and interest.
How to Use Udimi?
Using Udimi is super-easy. I have given the step by step instructions below to register on the platform and purchase your first solo ad.
Register at Udimi by creating your free account here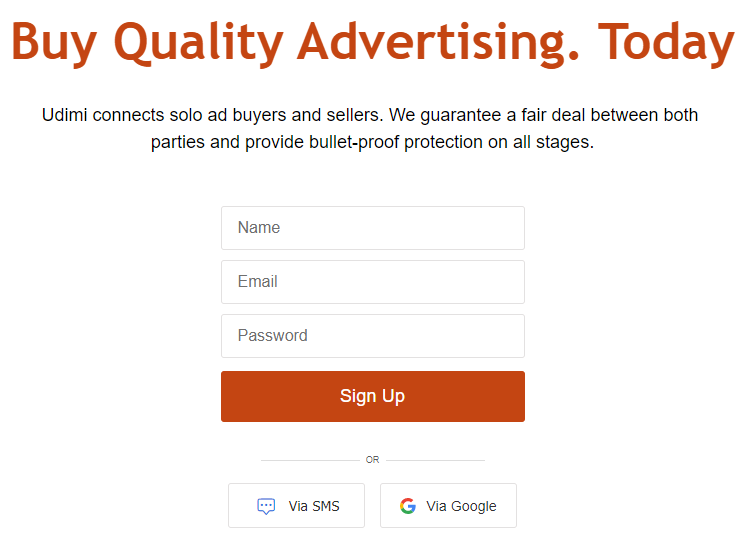 Use the "Find Sellers" option to find a solo ad seller. Select filters as per your requirement.
Before selecting a seller, you can carefully read about the seller and review the ratings given by the past buyers.

These details will help you make a better decision.
Before placing the order, select the number of visitors you need from the slider given at the top and specify the URL and date on which you want the seller to send the visitors.

Seller will then review your site and either accept or reject it. If your site gets rejected, you automatically get your refund back.
You can watch the execution as all Udimi sellers have to deliver the traffic within hundred hours of starting date mentioned by the buyer.

For non-delivered visitors, you will get an automatic refund.
You get access to all the stats related to your order such as how many clicks you have received and the locations where the clicks are coming from.

As you now are aware of how to use Udimi to get quality visitors, let's have a look at some of the Pros and Cons of the platform.
Pros
Udimi connects buyers with registered sellers only where the seller has to go through several tests to confirm the quality of their mailing list.
Udimi gives the best filtering options, including price, buyer ratings, sales conversions.
Just like Paypal, Udimi provides complete buyer protection and ensures that the buyer receives genuine clicks.
If a seller receives any negative review, it cannot be deleted under any circumstances.
In most cases, you get more clicks than what you have paid for from the sellers.
Cons
Most of the times, Udimi sellers only accept niche related to "make money online."
You need to pay an extra fee for more advanced filtering such as to assess the traffic filters for every order.
Some buyers have raised their concerns over the accuracy of the sales metric.
Frequently Asked Questions
I have placed an order on Udimi. What's next?
Ans: Once you have placed the order, you have to wait for the seller to accept it. The seller has 24 hours to accept or reject your offer.
If your order gets rejected, the money will be credited back to your Udimi account.
Why my order has been rejected by the seller?
Ans: Generally, sellers send you a private message after rejecting your offer with a reason why they have rejected it. In case you didn't get a message, here are some of the common reasons for rejection:
The seller has recently mailed a similar offer and won't be able to give you quality results
The seller has some technical problems
Your website has some critical flaws or bugs
The seller is overbooked at the moment
How Udimi protects buyer rights?
Ans: Udimi guarantees total safety and control all aspects of solo mailing, including:
All the traffic goes through Udimi filter
All payments are processed by Udimi
The buyer gets an instant refund for non-delivered traffic
The seller receives their amount only after 100% delivery
Spamming and unprofessional behaviour is strictly prohibited
How can I get a refund on my order?
Ans: If an order gets rejected, the money is instantly credited to your Udimi account and can be used for your next order.
To process a refund, go to the "Money" section and click on the "Get Refund" option (available on the desktop version).
Refund of payment made by a Card will take up to 14 days to reflect on your account. Refund of fee made through Paypal is instant.